Uber Elevate Conference (2019)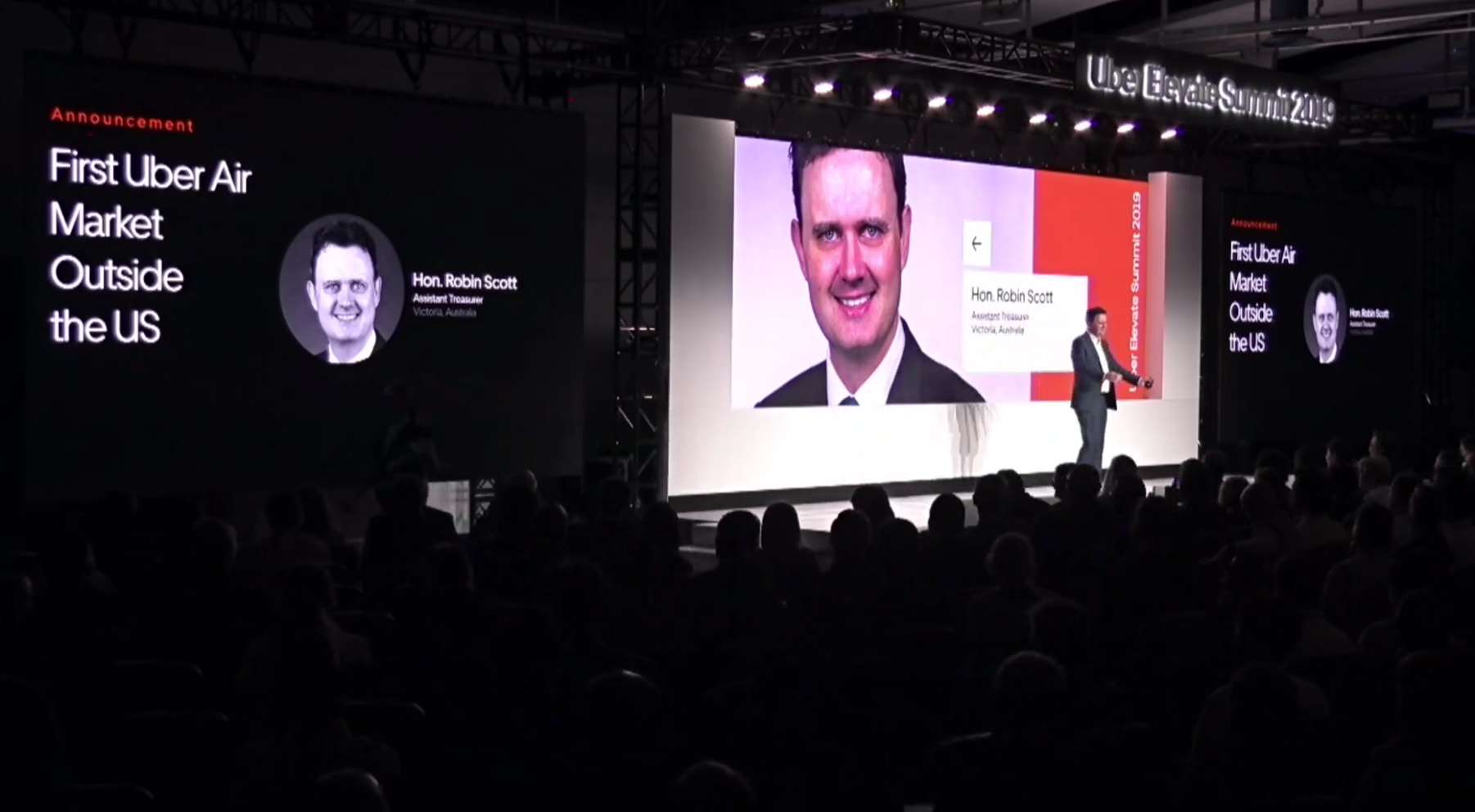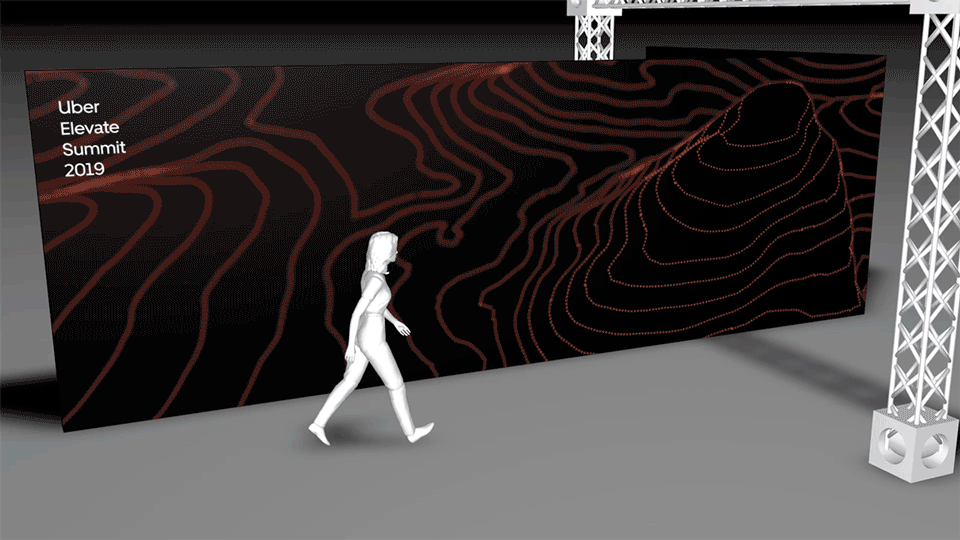 The Elevate Conference is a 2-day event that brings aviation leaders together to discuss the future of aerial ridesharing. For the 2019 conference, I was tasked with designing and animating all event show package elements, including animated intros, side screen presentation templates, lower thirds, drone footage motion graphics, and ceiling projection animations. I also created concepts for large interactive screens.
Role:
 Motion Production, Concept
Uber IPO Launch Ads (2019)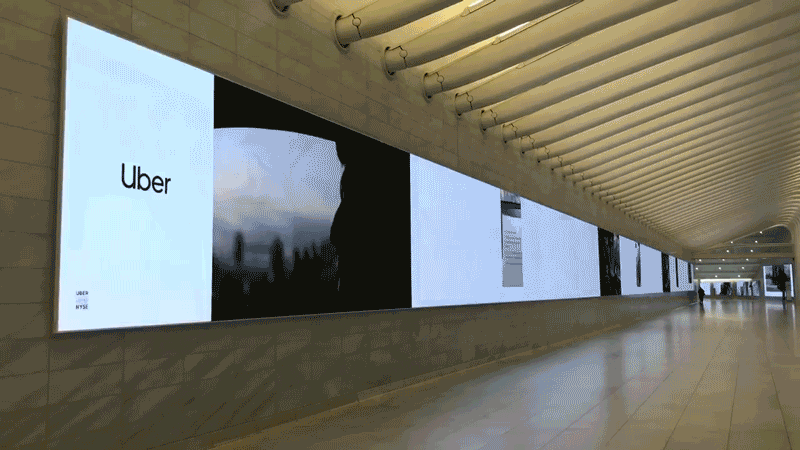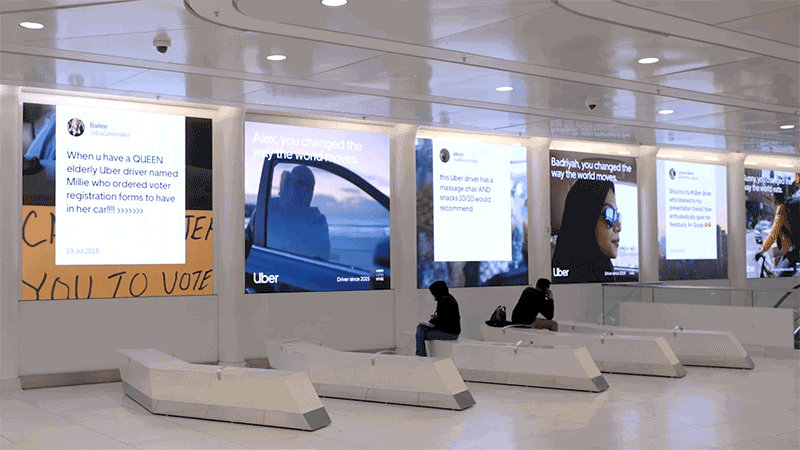 To celebrate the Uber IPO launch in May 2019, the Uber marketing team developed a series of OOH (out-of-home) ads that would be screened in 7 cities on 37 outdoor screens. I was responsible for developing the motion direction for the ads, personally editing and animating 22 screen assets (for NYC) while providing guidance to two other motion designers who took on the remaining cities. Worked closely with super-producer Sasha Riddle to manage the project— from gathering requests and addressing feedback changes, to tracking assets and deliverable files. 
Role:
 Motion Project Management, Motion Design
Uber Presents "Da Republic of Brooklyn" (2018)
Short film series about 5 unique Uber drivers from Brooklyn, directed by Spike Lee. I was responsible for the trailer motion graphics (above video). For the full short films, I designed custom props for each driver's story intro (see them all at
uberpresents.com
).
Role:
 Design, Motion
Uber Presents "My Riders My Writers" (2017)
"Uber Presents" is a short film series about Uber drivers from all over the world. "My Riders" is about Bob, a driver who keeps a guestbook for his riders to leave inspirational quotes, life lessons, and random doodles.
Role:
 Design, Illustration, Motion
Uber: The Official Ride of the San Jose Sharks (2016)
The San Jose Sharks animation was created to encourage Sharks fans to take an Uber to-and-from games. It was played at all 2016 home games, on the SAP Center's huge scoreboard LED screens. 
Role:
Writing, Design, Illustration, Animation
"Move India" was a commercial to promote engineering positions with Uber's India Growth team. I designed and composited the fake chat and text editor apps.
Role:
 Design, Animation, Compositing
This online ad was created to promote Uber's new Spotify integration.
Role:
 Animation, Compositing
"How to Uber" was a 2014 video created to help new Uber users navigate their way around the app. This was the first "how-to" video made for the company at the time.
Role:
 Concept, Script, Design, Animation, 3D